Happy Halloween Day – 31st October 2023
Halloween or Hallowe'en is a celebration observed in many countries on 31 October, the eve of the Western Christian feast of All Saints' Day. It begins the observance of Allhallowtide, the time in the liturgical year dedicated to remembering the dead, including saints, martyrs, and all the faithful departed.
Field Trip to Star Shopping Mall – 12th October 2023
A day filled with Fun and Frolic…
Pink Colour Day Celebration – 28th September 2023
Rhythm N Rhyme – Music Time -14th September 2023
where words fail music speaks
Happy Krishna Janmashtami – 6th September 2023
Krishna Janmashtami, also known simply as Krishnashtami, Janmashtami, or Gokulashtami, is an annual Hindu festival that celebrates the birth of Krishna, the eighth avatar of Vishnu. In certain Hindu texts, such as the Gita Govinda, Krishna has been identified as supreme God and the source of all avatars.
Happy Teachers Day – 5th September 2023
Teachers' Day in India is celebrated every year on September 5 to mark the birth anniversary of Dr. Sarvepalli Radhakrishnan. He was a former President of India, scholar, philosopher and Bharat Ratna recipient. On Teachers' Day 2023, students all over the country pay respect and tribute to their teachers.
It's Play Time
Happy Raksha Bandhan – 30th August 2023
Raksha Bandhan is one of the most famous festivals in India. It is commemorated to celebrate the bond of affection and love between a brother and a sister. In English, the term "Raksha" means protection and "Bandhan" means bond. Thus, Raksha Bandhan means the day of "Bond of Protection". At Ekam, this year we celebrated it on 30th August 2023.
Happy Onam – 29th August 2023
The 10-day-long festival Onam celebrates the homecoming of the Asura King Mahabali from the Patal Lok. Sadya is a popular traditional feast served during Onam. People in the southern state of Kerala are celebrating Onam to mark the harvest season and the end of the monsoon. At Ekam this year we celebrated it on 29th August 2023. The children helpen the teachers to make a flower rangoli and a colours rangoli.
Yellow Colour Day Celebration – 18th August 2023
Happy Independence Day – 15th August 2023
Independence Day is celebrated on 15th August every year. This is the day when India got its independence from the British Rule. This year India celebrated its 77th Independence Day on 15 August 2023, marking 76 years of freedom. The theme for this year's celebration is "Nation First, Always First" as a part of the wider "Azadi Ka Amrit Mahotsav" celebration.
Explore Best Fruits and Vegetables – 9th August 2023
On this day we discussed with the children about fruits and vegetables and how they can help them to stay happy, healthy and fit. The children also came up with their best vegetables and fruits.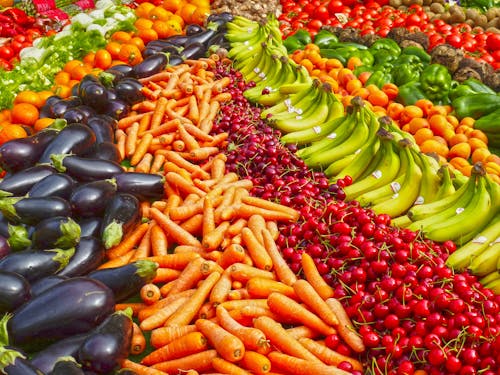 On The Board & Show and Tell Activities
On the Board activity was done on Friday, 28th July 2023. On this day children are asked to write on the board. They are given a word or a letter which they write on the board as the others watch their peers. Some of them simply scribble, but surely each one has lot of fun in the activity.
In the show and tell activity which was done on Tuesday, 25th July 2023 the children have to bring their favourite object from their home and talk about it. Some of them had come prepared with their favourite toy or dress or book, or any favourite item. Some had been laid back and hence the teachers helped them to prepare themselves on the spot. Whatever the case we could see them coming out of their shells and saying something about their favourite object. Nonetheless, this activity does help them to build confidence and helps children develop effective communication skills.
Balanced Diet Day – 19th July 2023
Wearing a Jacket Activity – 14th July 2023
Wearing a Jacket Activity – 14th July 2023
By 2 years your child should be able to take off their unfastened jacket. Between the ages of 3 and 4 your child should be able to put their jacket on. Although they may not manage zips and buttons.
How to Get Your Toddler to Wear a Coat?
Teach them to put it on themselves. You know that part of why they're refusing to put on the coat is because you want them to put on the coat. … Call it something else. … Create a cold weather dress-up area. … Try a cloak or poncho. … Let them carry it instead.
D.E.A.R. – LIBRARY DAY – 13th July 2023
D.E.A.R. means Drop Everything And Read. We celebrate this week as the Library week and help children to inculcate the love for books. Some thoughts from our team for the love for books:
A good book is an event in my life.
The world belongs to those who read.
That's the tihing about books. They let you travel without moving your feet.
A write only begins a book but the reader finishes it.
A good book is an event in life.
A reader lives a thousand lives before he dies.
Reading brings us unknown friends.
Think before you speak. Read before you think.
Today a reader, tomorrow a leader.
A book is a gift you can open againa nd again.
Books are uniquely portable magic.
I do believe something magical can happen when you read a good book.
Reading is dreaming with open eyes.
So please, go and throw all your gadgets and install a bookshelf in its place.
Reading is to mind what exercise is to body.
A room without books is like a bosy without a soul.
Blue Colour Day Celebration – 7th July 2023
This year we celebrated the Blue Colour Day on 7th July 2023. Each child spoke a few lines about the colour and told us about their favorite colour.
Ekam Kids Playground Fun Time with swings and outdoor activity
A marvelous quotation about play is attributed to the most brilliant scientist of the modern age, Albert Einstein. Albert Einstein is known for having said, "Play is the highest form of research." A family that plays together stays together but can also be much more happy and healthy.
Meditation Time
Mindfulness for children helps kids gain self-awareness and become more confident. Effective mantras for kids could be: "I am thankful," "I am loved," "I am safe," or "Let it go"
Session June 2023- March 2024 starts